CALAREO International Research Mobility Experience (IRME)
Funding for Canadian Students to Participate in Field Courses,
Study Tours, or Faculty-led Programs
in Latin America & the Caribbean
The International Research Mobility Experience (IRME) project offers eligible undergraduate students enrolled at a CALAREO member institution funding to participate in a field course or study tour in a Latin American or Caribbean country under the supervision of a faculty member from their home institution.  Funding to students is provided by the Government of Canada through the Global Skills Opportunities Program.
A. Faculty-led Programs / Field Schools 
Faculty members at CALAREO member universities who have established field courses or are interested in creating new ones in Latin America or the Caribbean can nominate students for funding. At least half of the nominees should be underrepresented students (low-income, Indigenous, or students with disabilities).  Award recipient will receive from $2,000-$5,000 for travel and accommodations, and other related expenses, depending on number of students and length of stay, among other factors.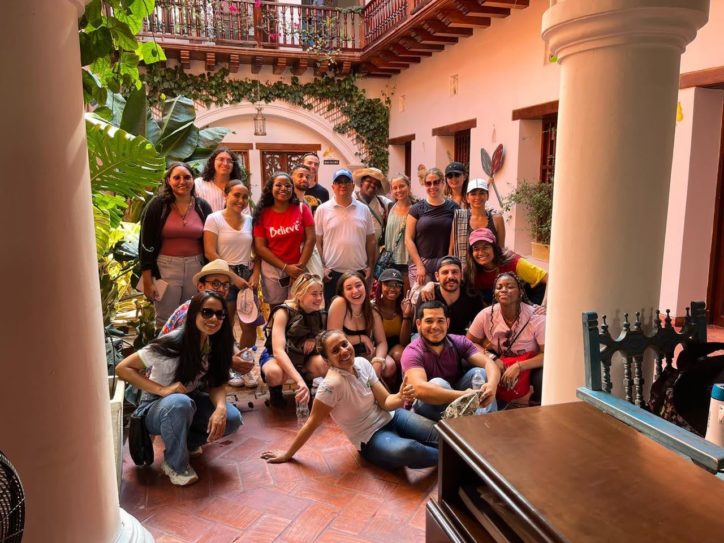 Students in the York University course "Hispanic Geopoetics" spent two weeks at Universidad del Magdalena, in Santa Marta, Colombia, February 2023. Nine students received funding from the CALAREO IRME program.
Field schools or faculty-led programs may be a for-credit course or a non-credit-based extra-curricular activity. Both mobility experiences are eligible for funding. The duration of the field school may be 1 to 4 weeks.
Faculty members will be responsible for fully developing the course, finding partners abroad, securing locations for classes and accommodations, and arranging travel and transportation.
Student Eligibility
Student participants must be Canadian citizens or permanent residents
Students must be 18 years of age or older (no upper age limit)
Students must be in good standing
Participants must be undergraduate students
Students can be registered in any discipline or program
International students are ineligible for funding
Faculty Member Responsibilities
Developing a (or have an existing) field school in Latin America and/or the Caribbean
Nominate students for funding and ensure they meet eligibility criteria
Communicate deliverables to students
Assist with arranging travel and in-country transportation
Secure locations for classes or research activities, in addition to accommodations
The supervision and assessment of activities
Ensure students' safety abroad
B.  Short-term Programs with other member or partner institutions  may also be eligible for student funding.  If you have questions about eligibility of a course or program, please contact your institution's coordinator (see below).
Some opportunities may be listed on this site:
York University – Las Nubes Project, Costa Rica: https://lasnubes.euc.yorku.ca/education/programs/.
York University is offering 8 field courses in Summer 2023 in various disciplines in Costa Rica. Students from any CALAREO member university may be able to apply as Visiting Students (and receive GSO funding, if eligible).   Students who are interested in one of these courses should contact their coordinator before applying.  Courses for Summer 2023 include:
Each Member institution may have its own deadlines, funding guidelines, and  selection process.
FOR ASSISTANCE: 
Vancouver Island University: Ms. Jennifer Sills, Jennifer.Sills (at) viu.ca
Lakehead University:  Ms. Jill Sherman, intl.research (at) lakeheadu.ca
York University:  Ms. Ashley Laracy, alaracy (at) yorku.ca
Carleton University: Ms. Sylvie Jasen, sylvie.jasen (at) carleton.ca
Memorial University: Mr. Chris Hibbs, chibbs (at) mun.ca