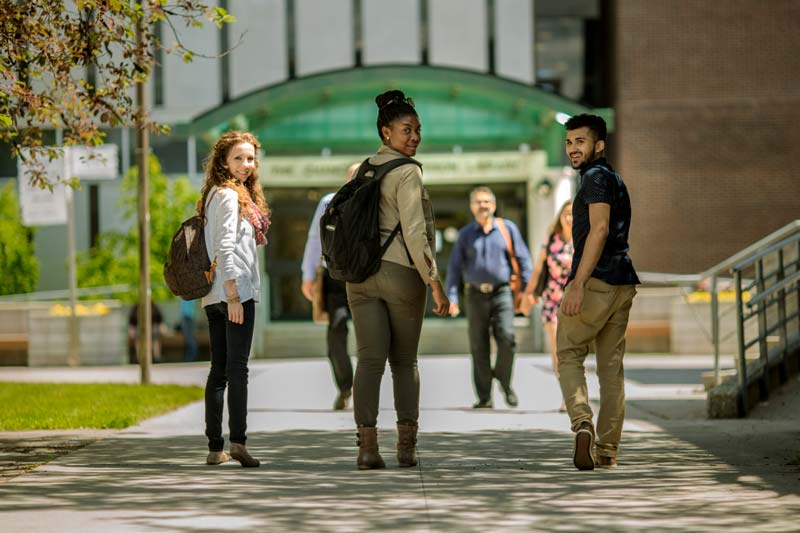 International Research Facilitator
Email: intl.research@lakeheadu.ca
Phone: 1 (807) 343-8014
International Student Recruitment
Email: welcome@lakeheadu.ca
Phone: 1 (807) 346-7859
Manager, International Relations (Latin America)
Email: mexicooffice@lakeheadu.ca
Phone: +52 55 5365 1433
Dynamic, modern, and learner-centred, we acknowledge our students as valued leaders of tomorrow, whose education and success are paramount to our institution. Lakehead University has approximately 9,700 full-time equivalent students and 2,000 faculty and staff at two campuses in Orillia and Thunder Bay, Ontario.
Lakehead is a fully comprehensive university, with Faculties of Business Administration, Education, Engineering, Health and Behavioural Sciences, Law, Natural Resources Management, the Northern Ontario School of Medicine (West Campus), Science and Environmental Studies, and Social Sciences and Humanities.  In addition to Lakehead's 57 undergraduate degree programs, the Faculty of Graduate Studies offers 29 Master's degree programs and eight Ph.D. programs. Both campuses promise the complete university experience: a blend of academic excellence and opportunity with a rich variety of social and recreational activities. We have active mobility programs and currently have over 1,800 international students from over 70 countries
We also deliver excellence in research; Lakehead is the proud host to eleven Canada Research Chairs and revolutionary facilities such as our world-renowned Paleo-DNA Laboratory and our Biorefining Research Institute.
Maclean's 2019 University Rankings place Lakehead University among Canada's Top 10 primarily undergraduate universities and in 2019, Research InfoSource named Lakehead its Research University of the Year in its category for the fifth consecutive year. In 2020, Times Higher Education Impact Rankings included Lakehead among the Top 100 universities, ranked on progress toward the UN's 17 Sustainable Development Goals (SDGs).
Academic Departments Research and Innovation
Strategic Research Priorities
Cultures, Societies, and Social Justice
First Nations, Métis, and Inuit Research
Health and Well-Being
Informatics, New Materials and Technologies
Sustainability, Resources, and the Environment
About Thunder Bay
Located on the north shore of Lake Superior, under the protective watch of the Sleeping Giant, Thunder Bay is rich in people and resources, and connects Northwestern Ontario to the world. We value our high quality of life and promote a clean, green, beautiful and healthy community that provides economic opportunity, respects diversity and provides affordable and safe neighbourhoods that are accessible to all.
About Orillia
Recognized as one of the premier outdoor recreation areas in Canada, Orillia is at the heart of Lake Country and home to boating, swimming, skiing, walking, hiking, cycling, and much more. From museums to galleries, live theatre, events, festivals, natural attractions, and superior accommodations, Orillia offers visitors the ultimate recreational, cultural, and experiential adventure.