CALAREO partners with CCYK in Colombia
Posted: December 20, 2020
CALAREO and Colombia Challenge Your Knowledge (CCYK) have signed an MOU to develop a partnership between their respective Canadian and Colombian members.  The partnership idea took root at the Conference of the Americas in International Education (CAIE), which was held in Bogotá, Colombia, in October 2019.
According to Dr. Andrew Dean, Chair of the CALAREO Consortium, "By collaborating with CCYK, the students and researchers at CALAREO member universities will have access to a network of 31 accredited universities in Colombia.  This is a wonderful opportunity to build our relationships in the region, and we look forward to developing collaborative activities under this partnership."
Learn about our new partners at https://www.ccyk.com.co/en/.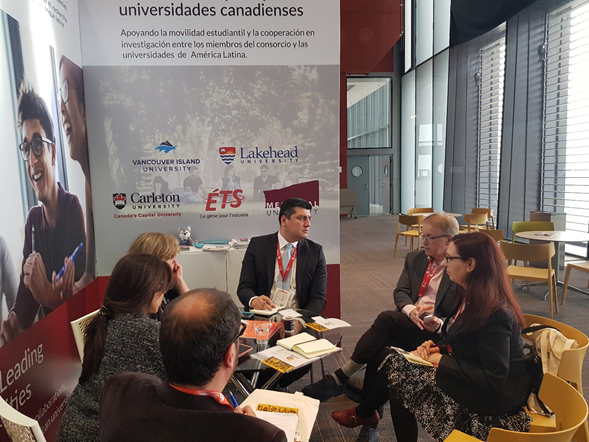 CALAREO team meeting with Dr. Giovanni Anzola-Pardo, Executive Director of CCYK at CAIE 2019 in Bogota.