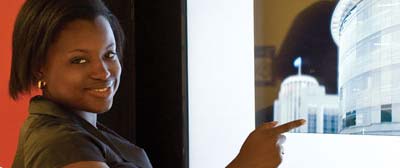 International Office
Email: international@etsmtl.ca
École de technologie supérieure (ÉTS) is a full post-secondary institution, which offers Bachelor's, Master's and Ph.D. programs, as well as numerous research chairs, laboratories and research activities. Specialized in applied education and engineering research, as well as technology transfers to companies, ÉTS trains engineers and researchers who are recognized for their practical and innovative approach. Since its founding, ÉTS has maintained a unique partnership with the business and industrial sectors, from large corporations to SMEs.
Through its international endeavours, which break down into more than a hundred scientific and academic international partnerships as well as student and professor mobility, ETS's research activities and scientific outreach transcend borders.
Our world-class professors will provide you with opportunities to study cutting-edge topics like aerospace, health technology, energy, materials and manufacturing, mechatronics and artificial intelligence, among others.
Research Priorities
Aerospace and ground transportation
Energy
Environment
Infrastructure and Built Environment
Materials and Manufacturing
Healthcare
Information and Communication Technologies

Connectivity
Intelligence

Ground Transportation
About Montreal
Montreal has a population of roughly 2 million people and has at least eighty different ethnic communities. This is probably why it is called "Canada's Cultural Capital" with its exquisite beauty, outstanding museums and first-rate restaurants. Montreal has been elected the best student city of North America according to 2019 QS ranking.